felted wool bowls
Soft and sturdy, these colourful bowls will give many years of use and enjoyment. Made from a yarn from a small, US mill, each bowl is carefully made over several days in my Vancouver studio.I've now made over 4,000 bowls, and some of my earliest pieces are still being used everyday in my home. They are wonderful to have at entryways and on desks and bedside tables, to catch things that you use daily, or to safely hold special things.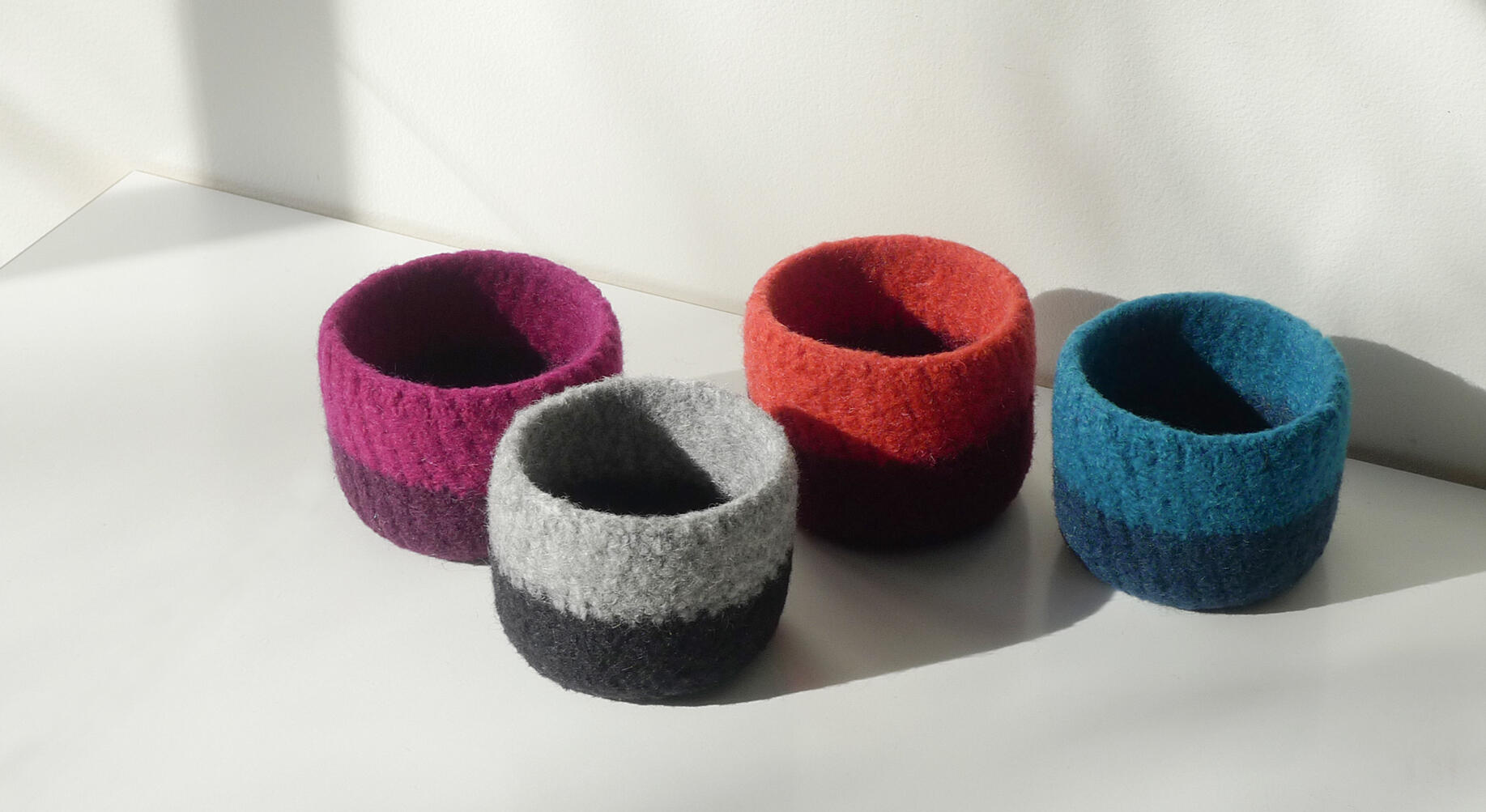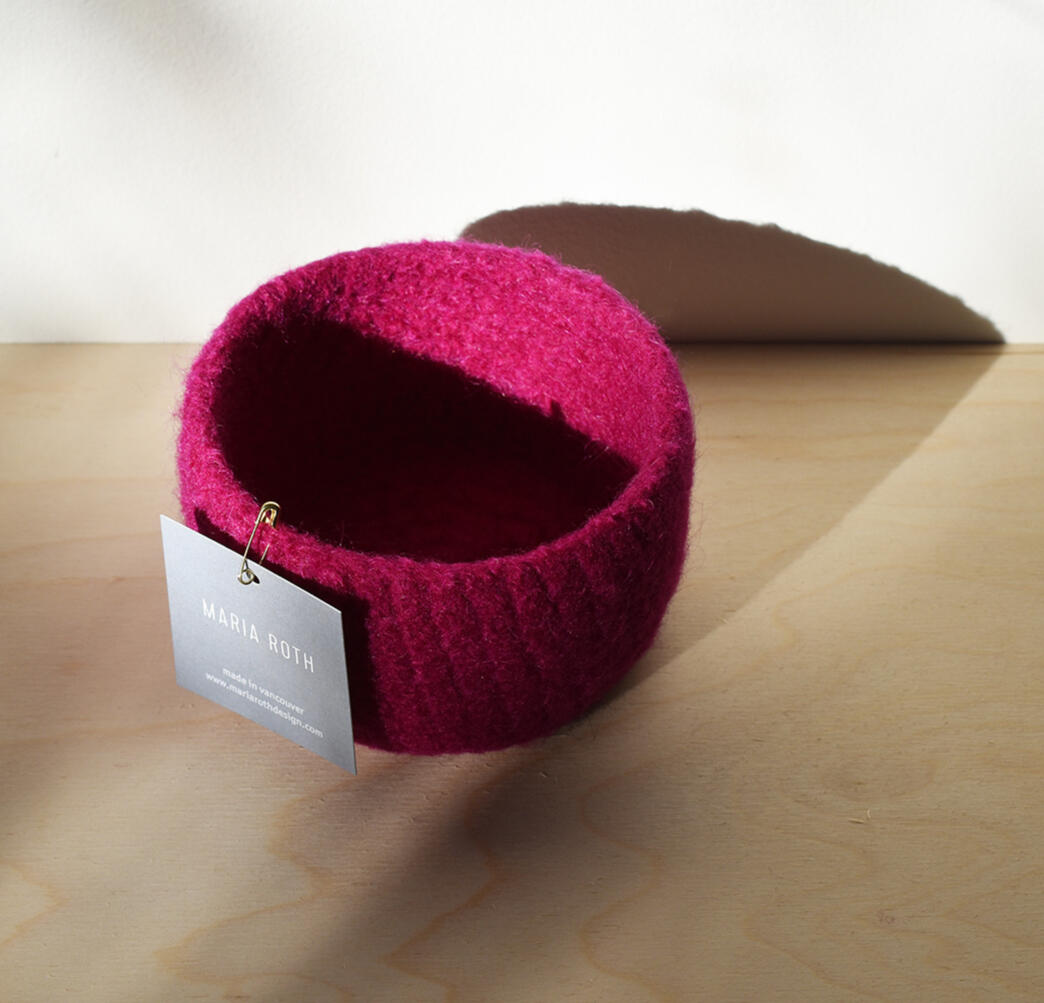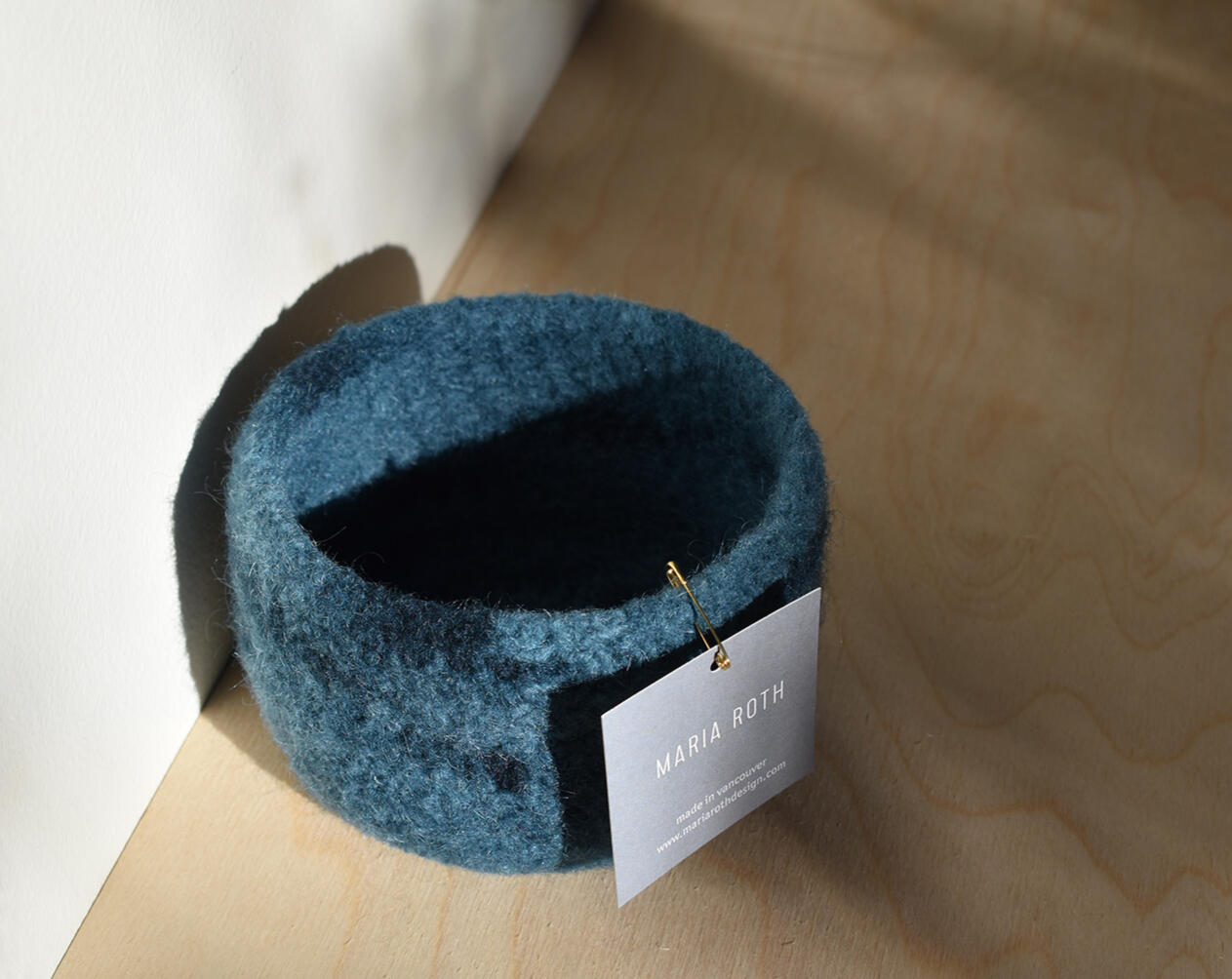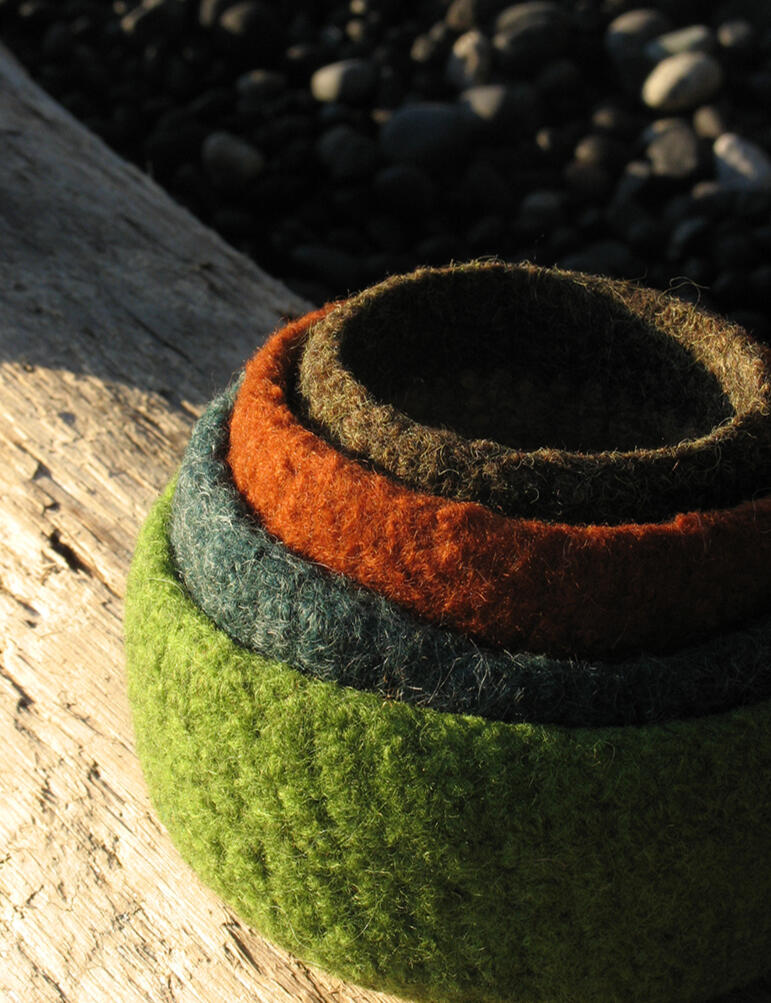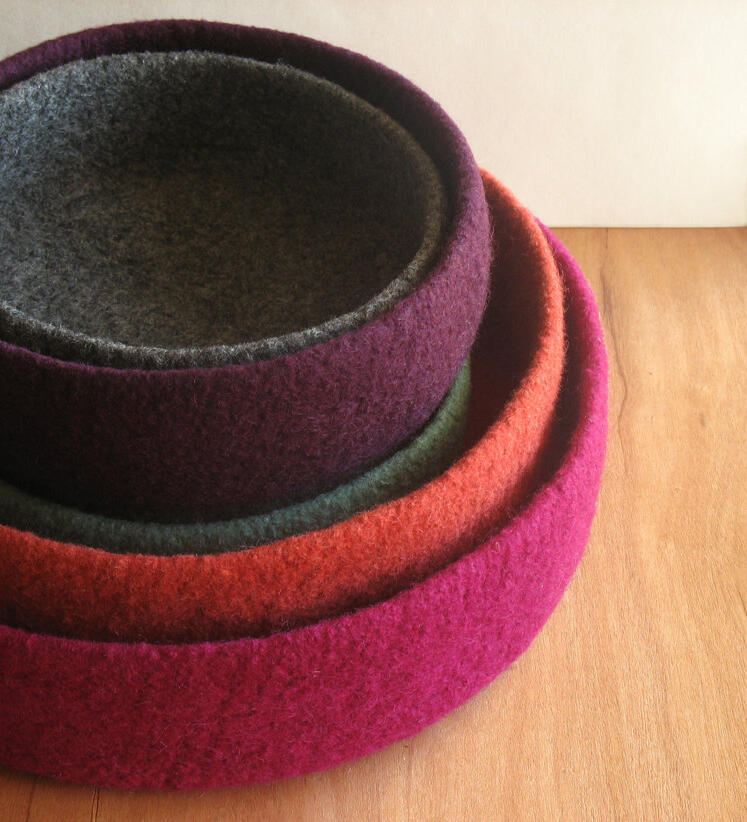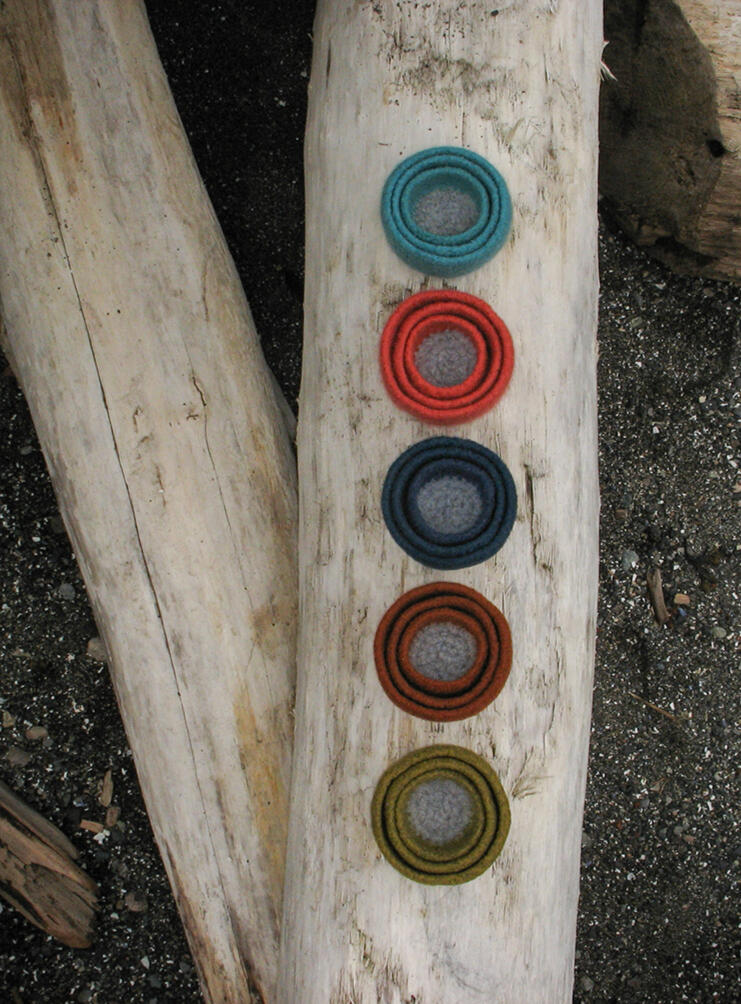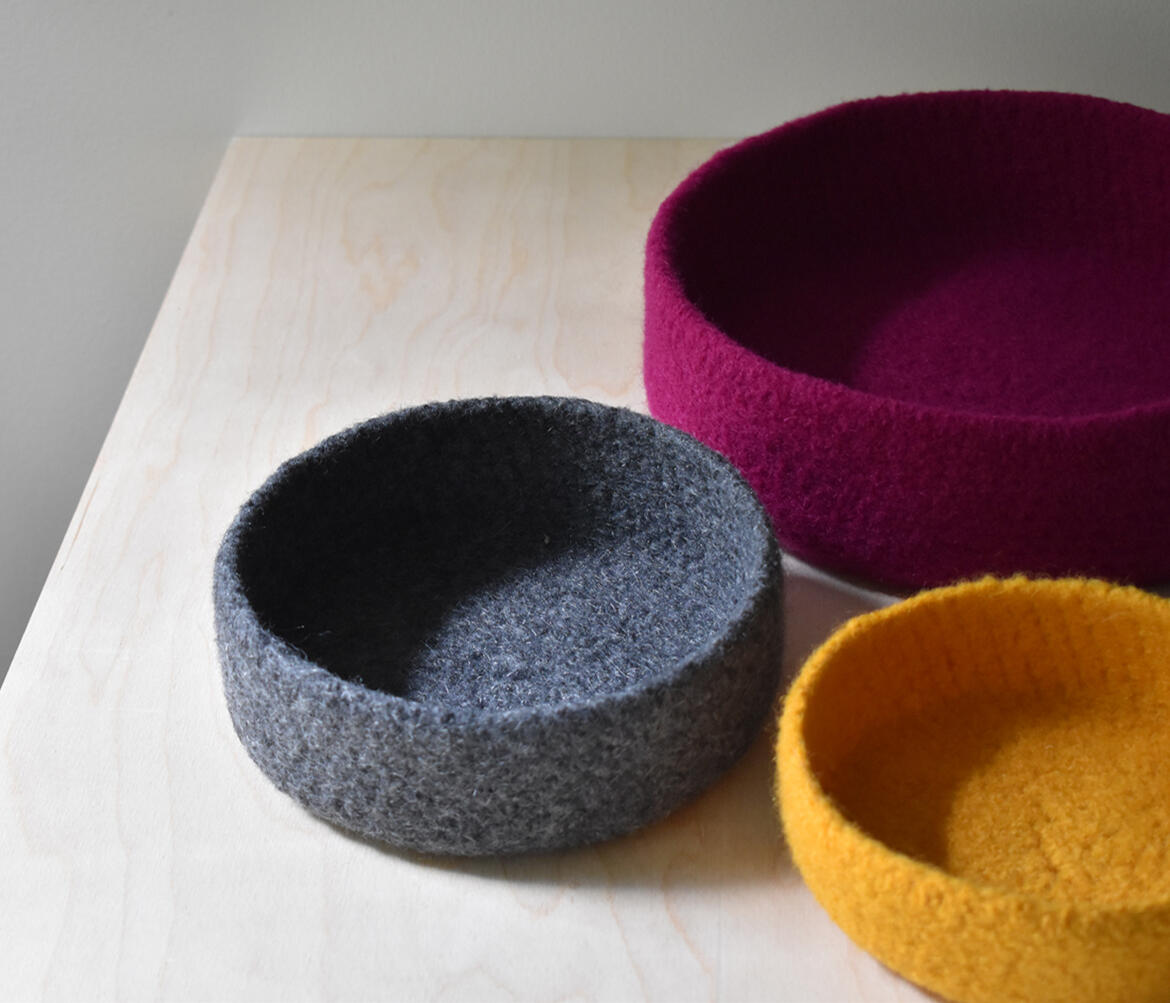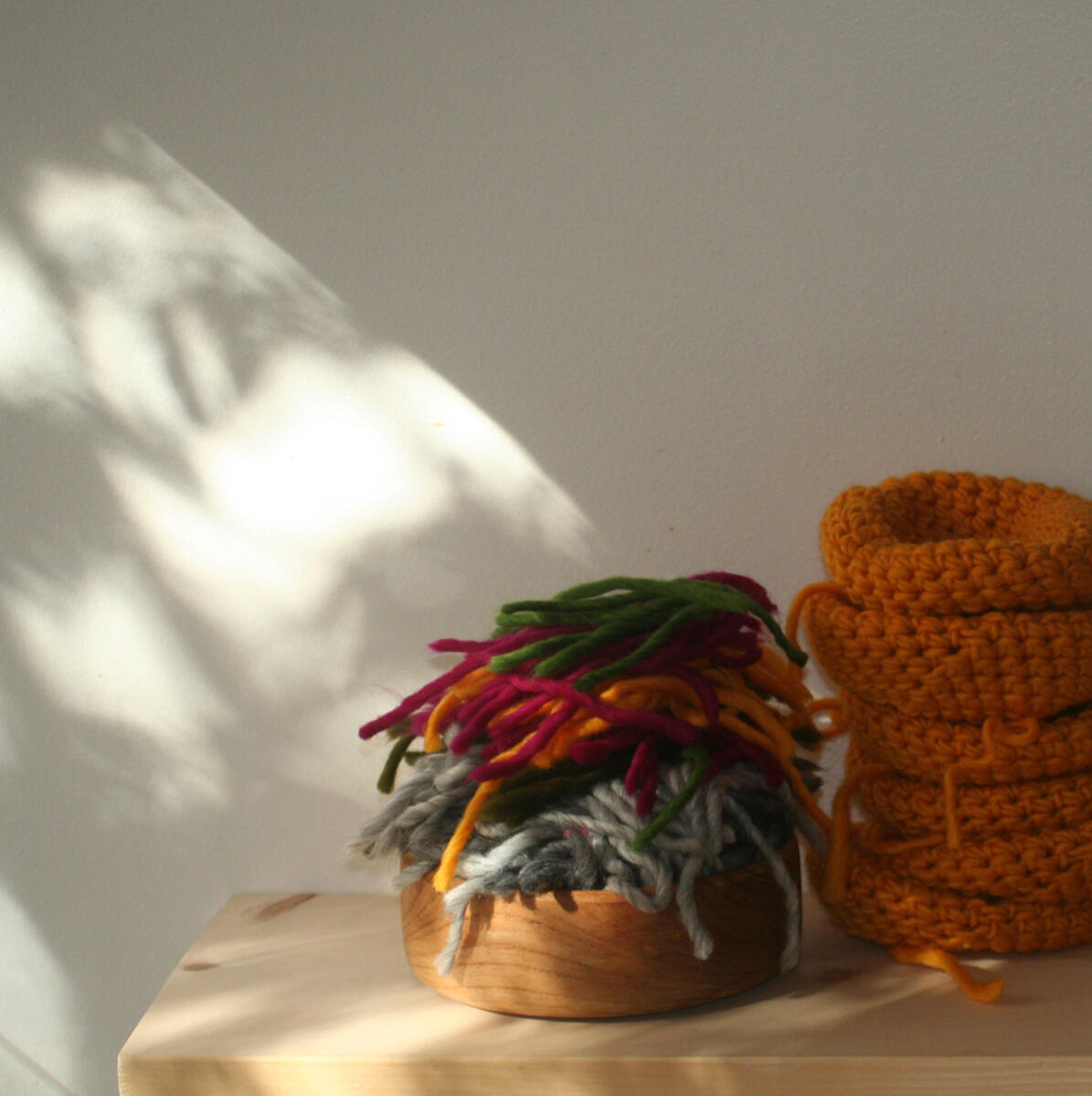 Studio shot: yarn and crocheted bowls before they are felted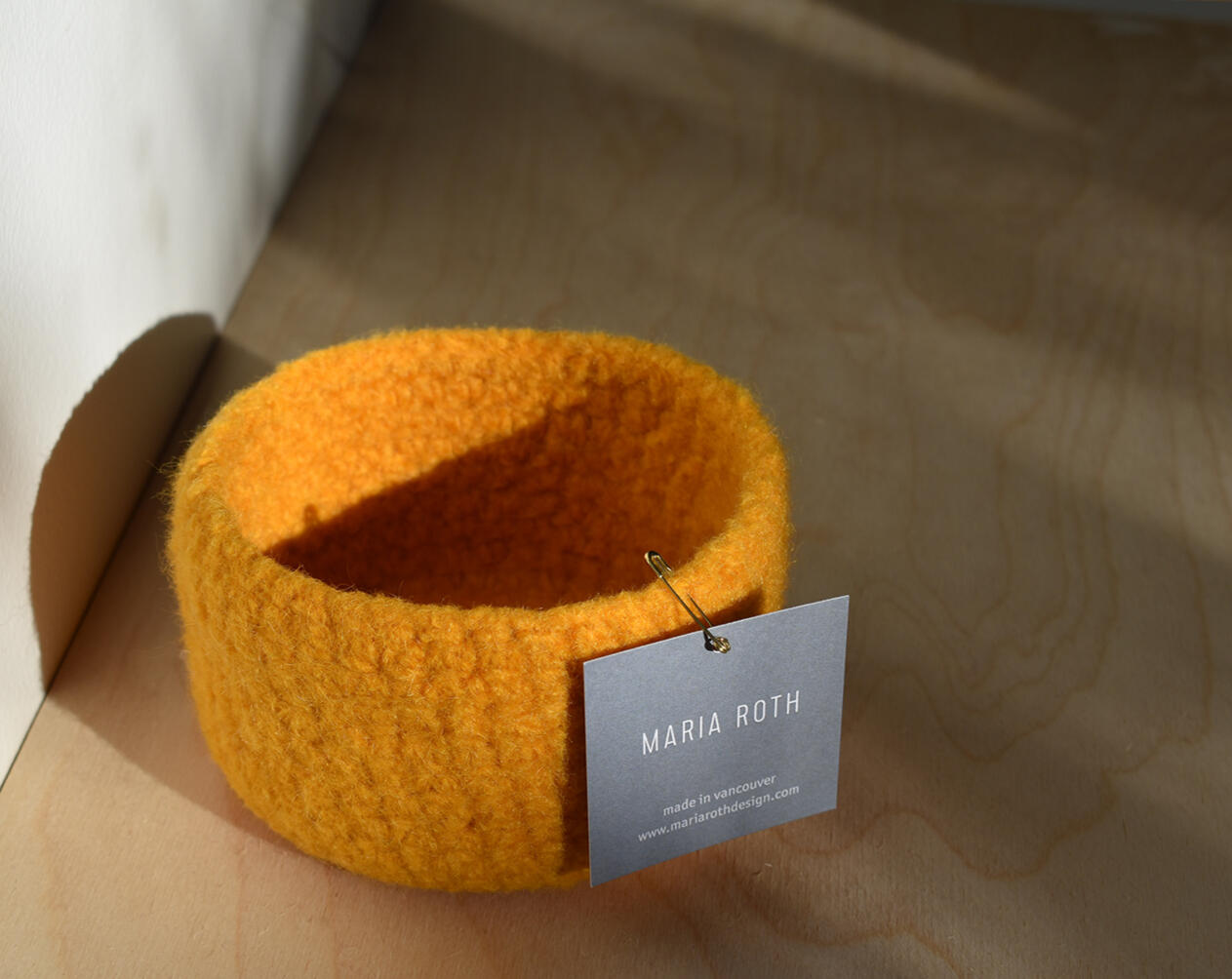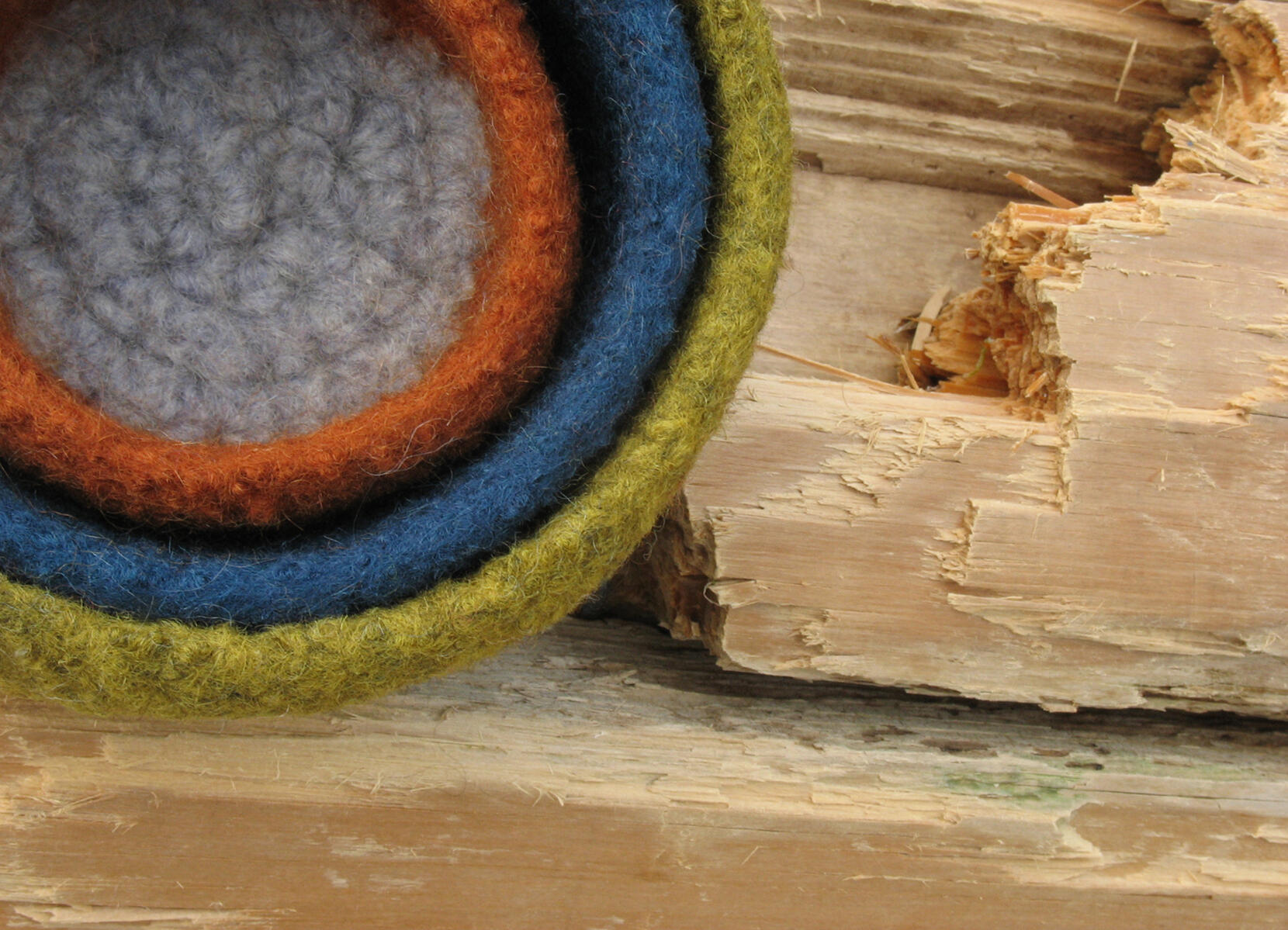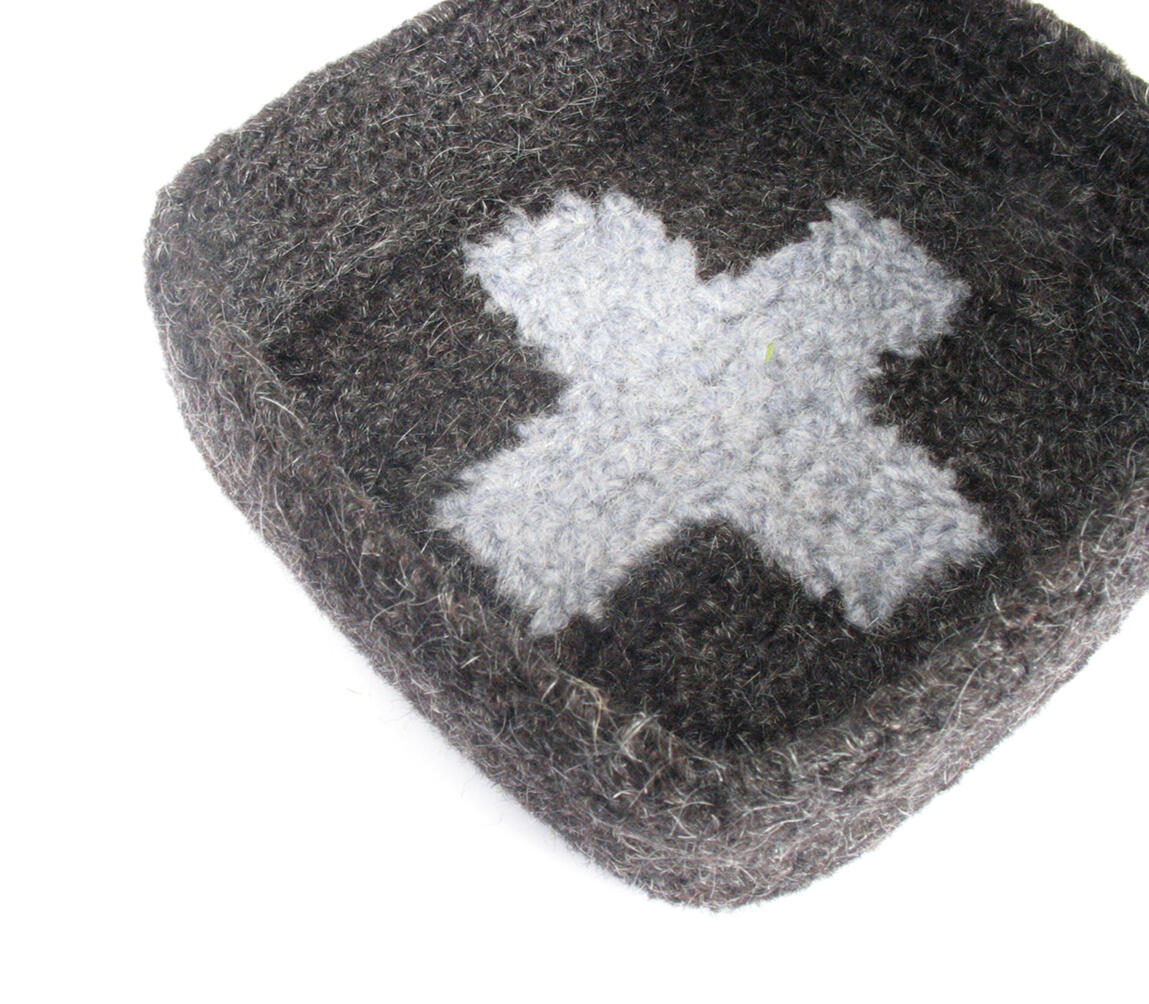 necklaces
Each necklace is an object of beauty and contemplation. Pairing hand felted organic merino cords with contemporary, vintage and antique beads that have travelled the world, each has its own story, and is distinct.For 2023, I have been able to gather some spectacular beads from the late 19th to mid 20th centuries. New work will be available in the early fall. Please message through this website if you would like to be added to my studio's email list.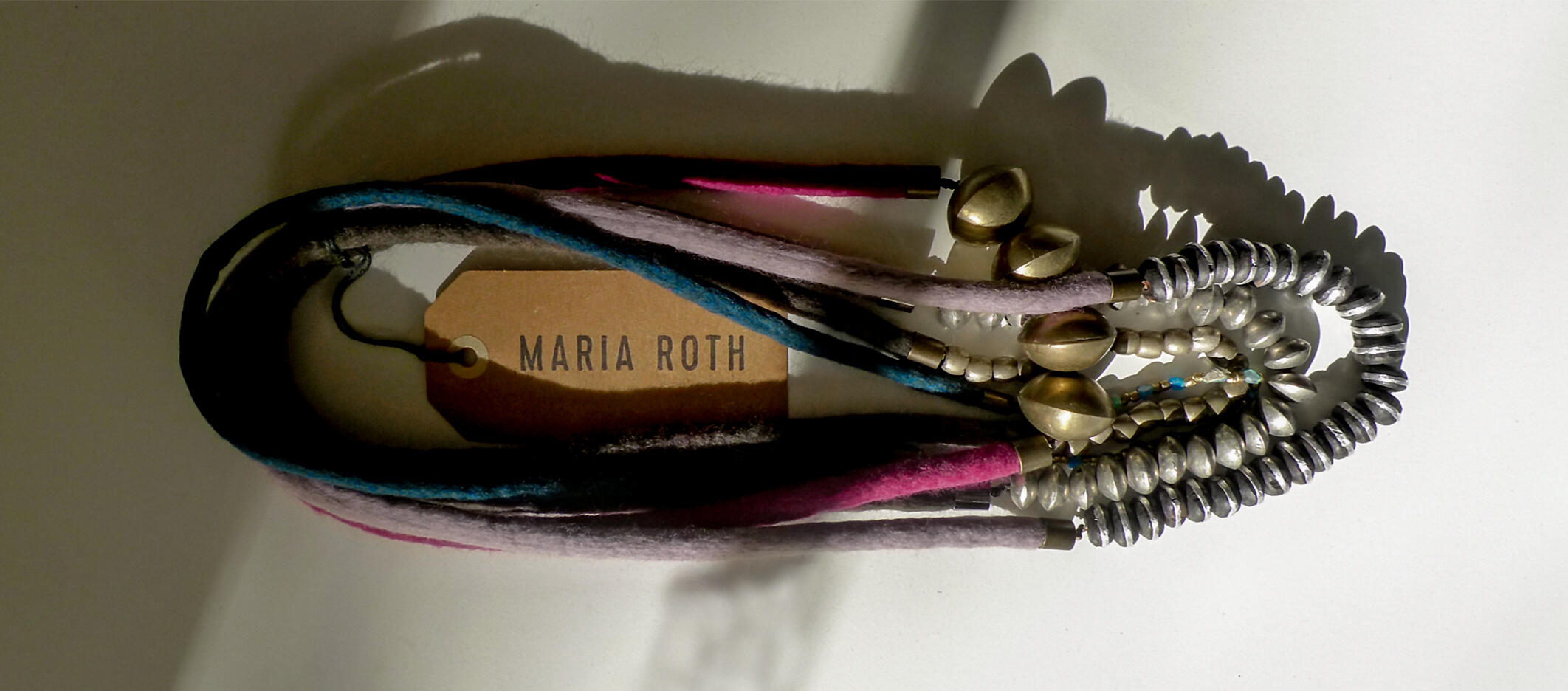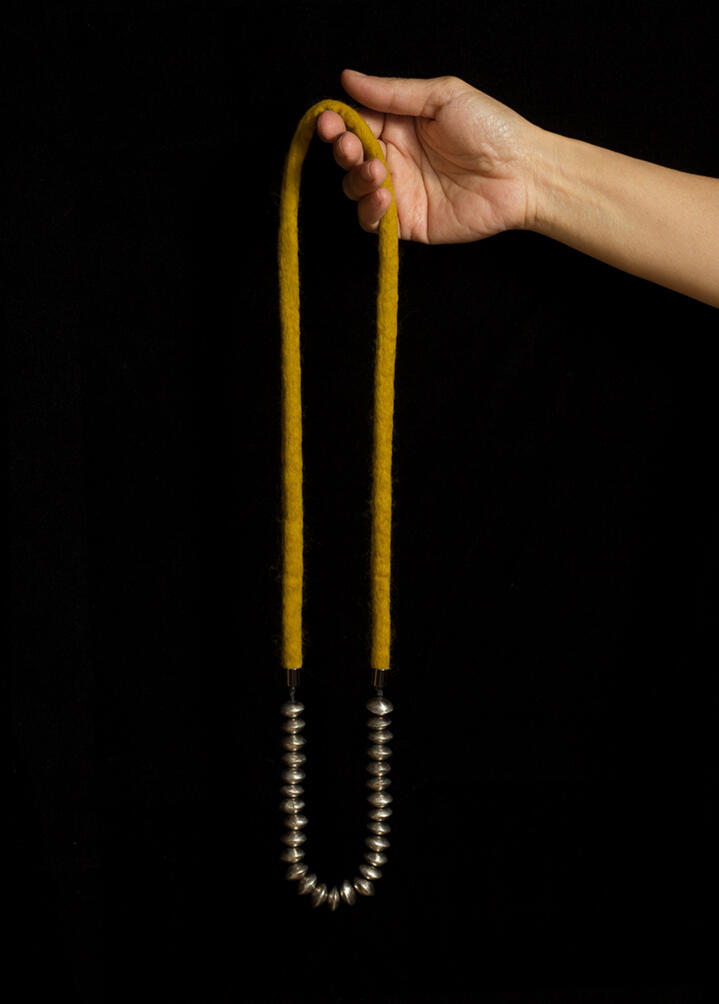 Contemporary recycled coin metal beads and hand-felted organic merino cord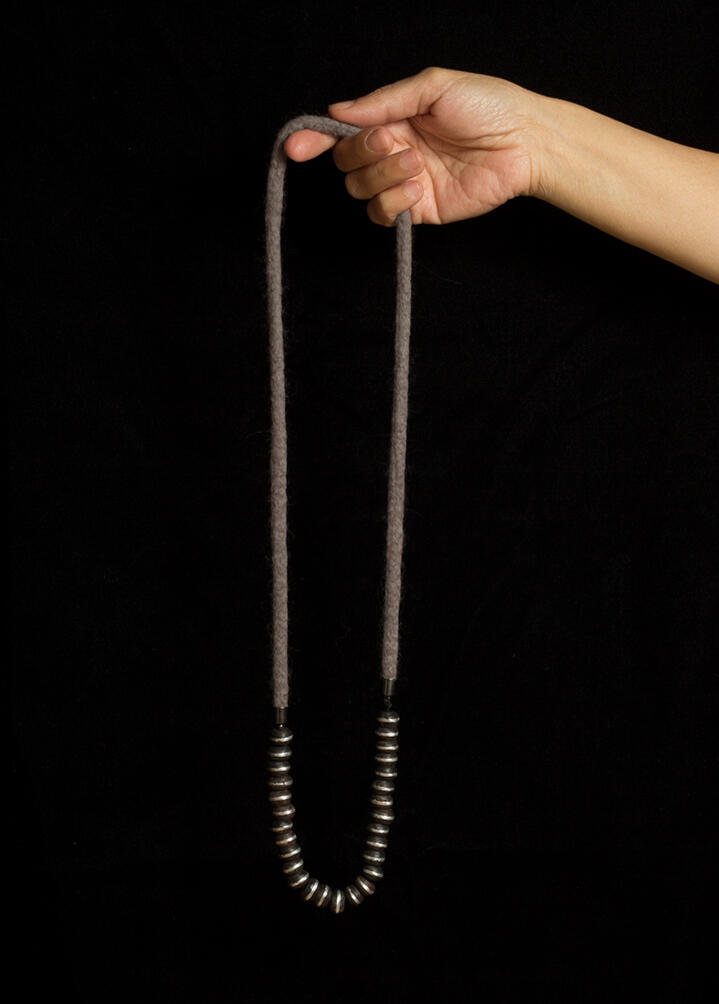 Black wood beads inlaid with recycled metal (Ghana) and hand-felted organic merino cord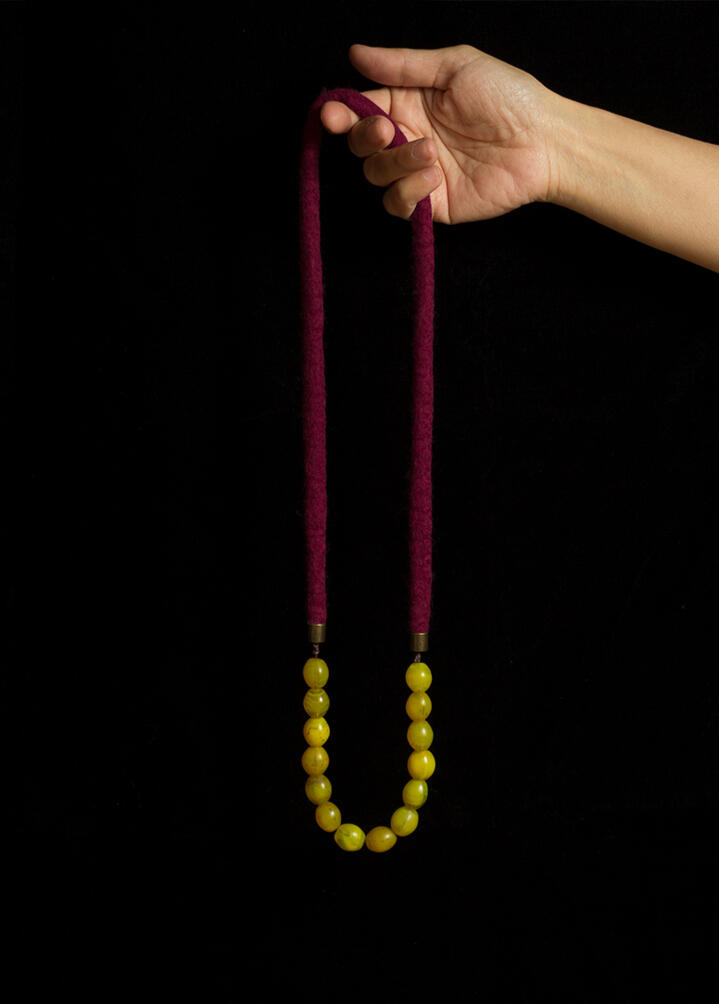 18thC glass beads and hand-felted organic merino cord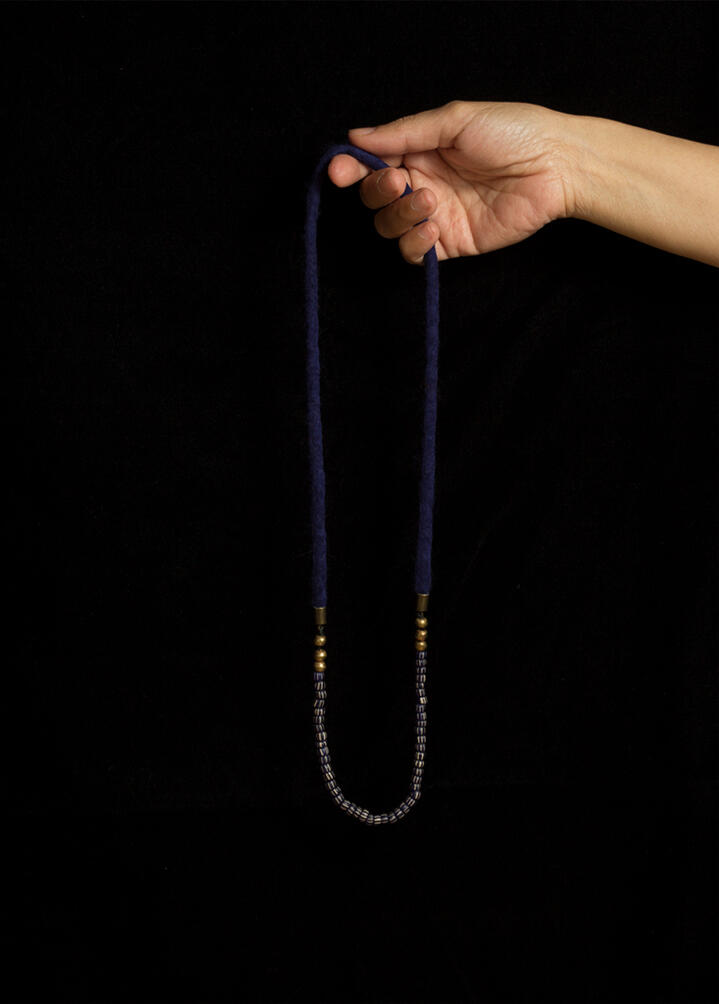 19thC striped glass beads and hand-felted, contemporary brass beads and organic merino cord


Studio shot: pairing cords and beads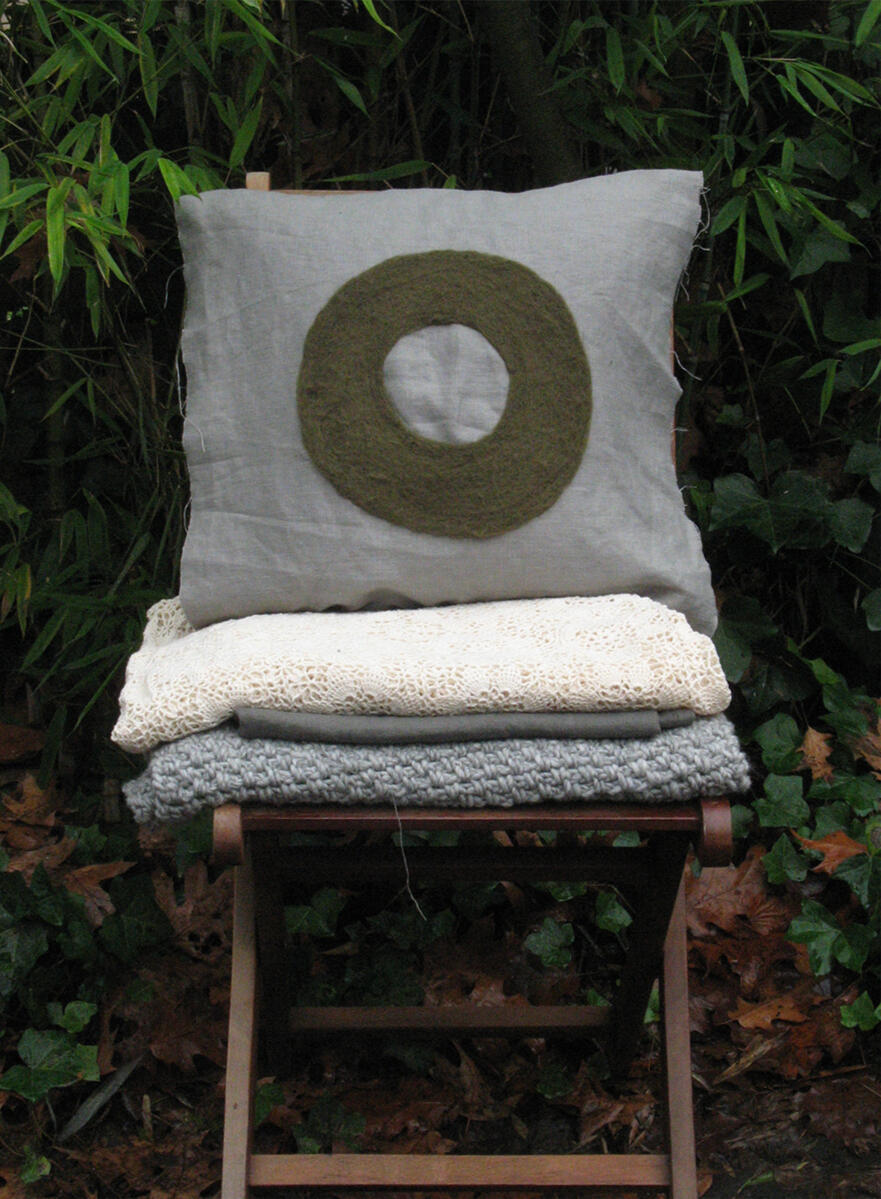 Top to bottom: prototype pillow (needle felting on linen), crocheted lace table cloth (from my grandmother) and chunky crocheted afghan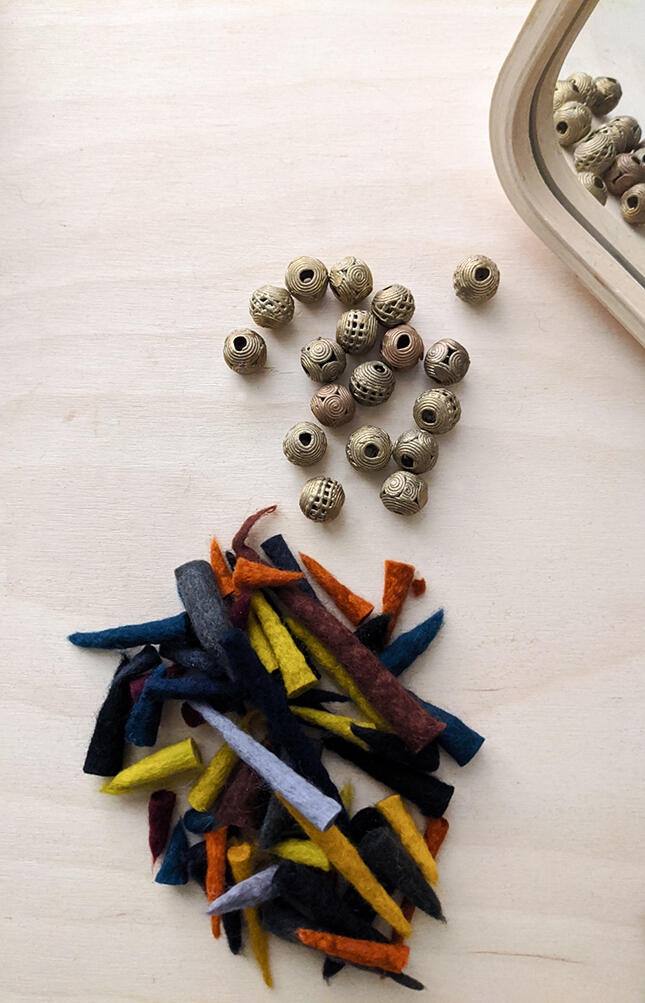 Contemporary lost wax cast beads (Ghana) and felted wool necklace cord ends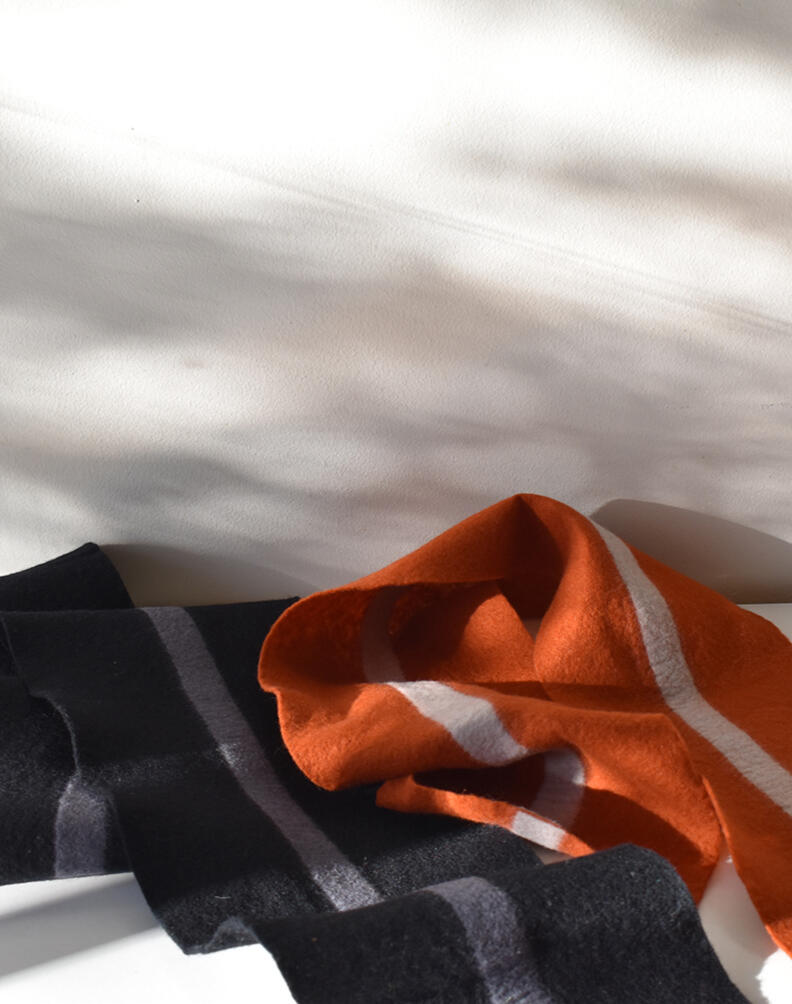 Felted organic merino scarves with graphic stripes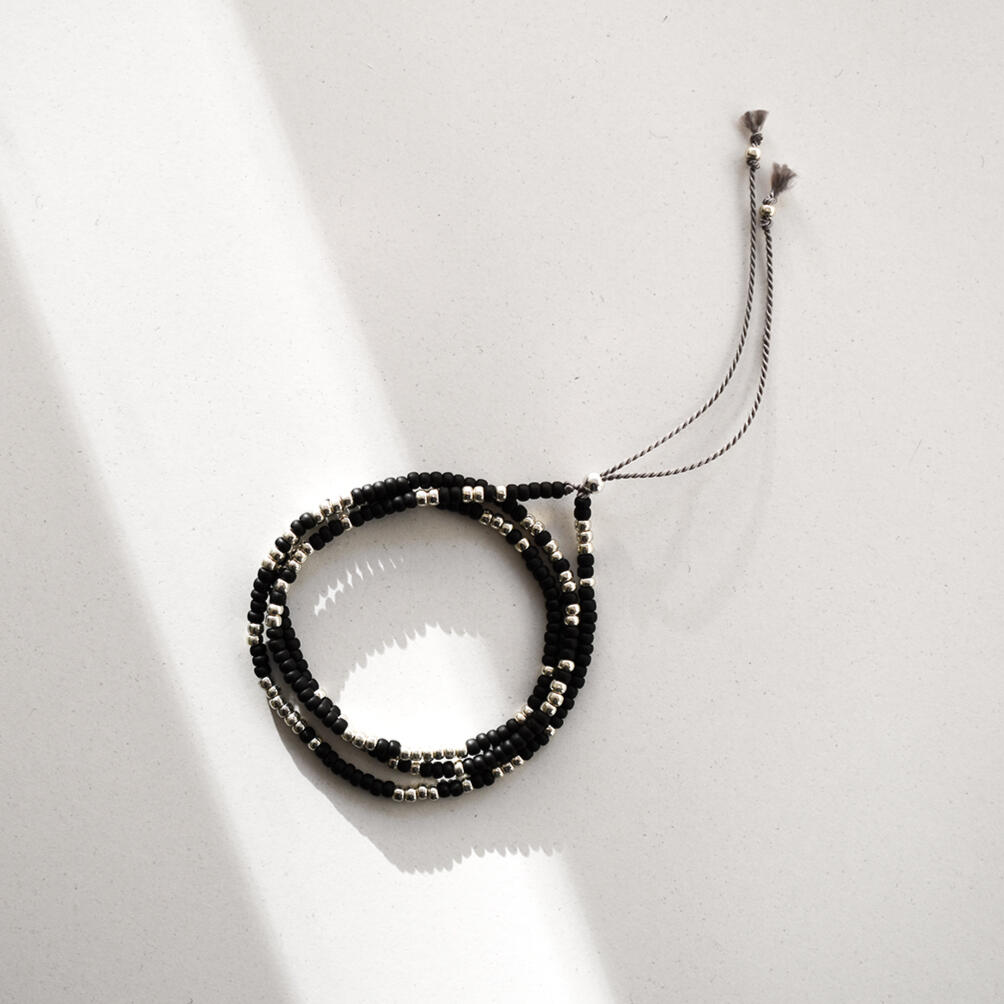 Adjustable glass bead bracelet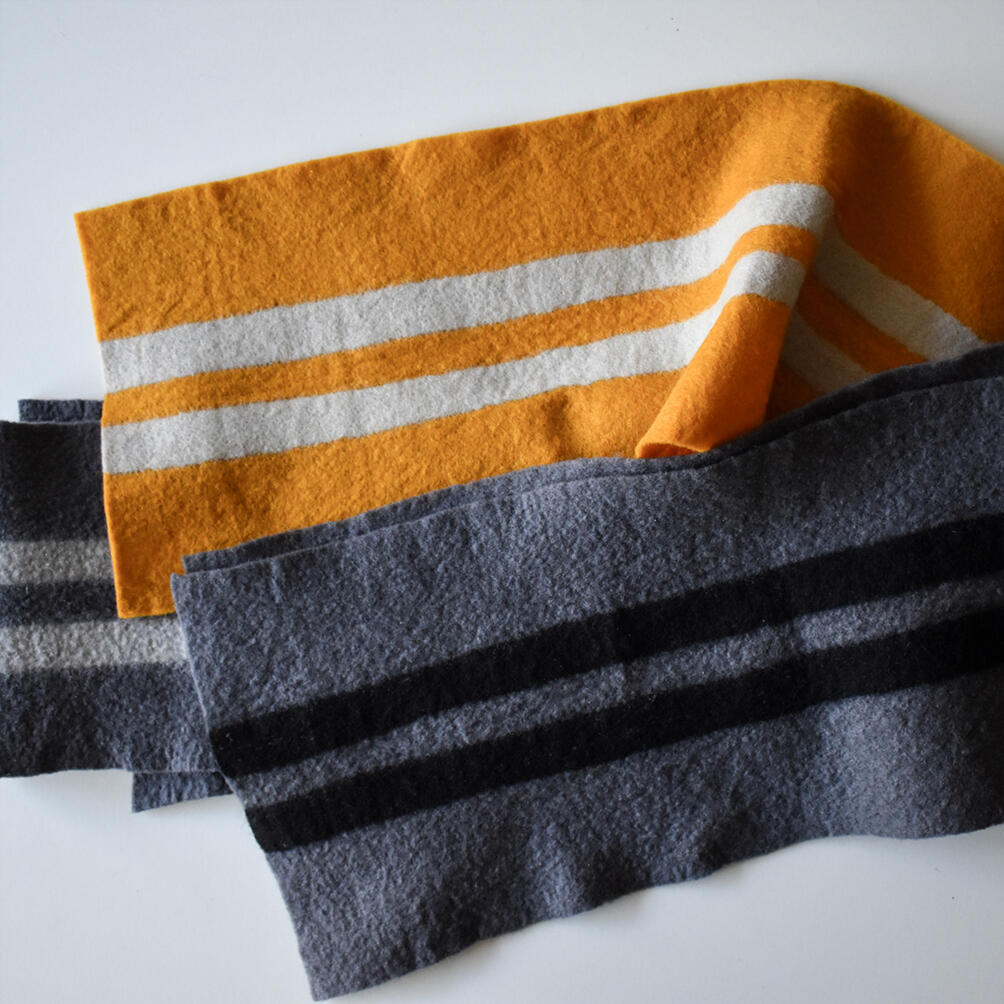 Felted organic merino scarves with graphic stripes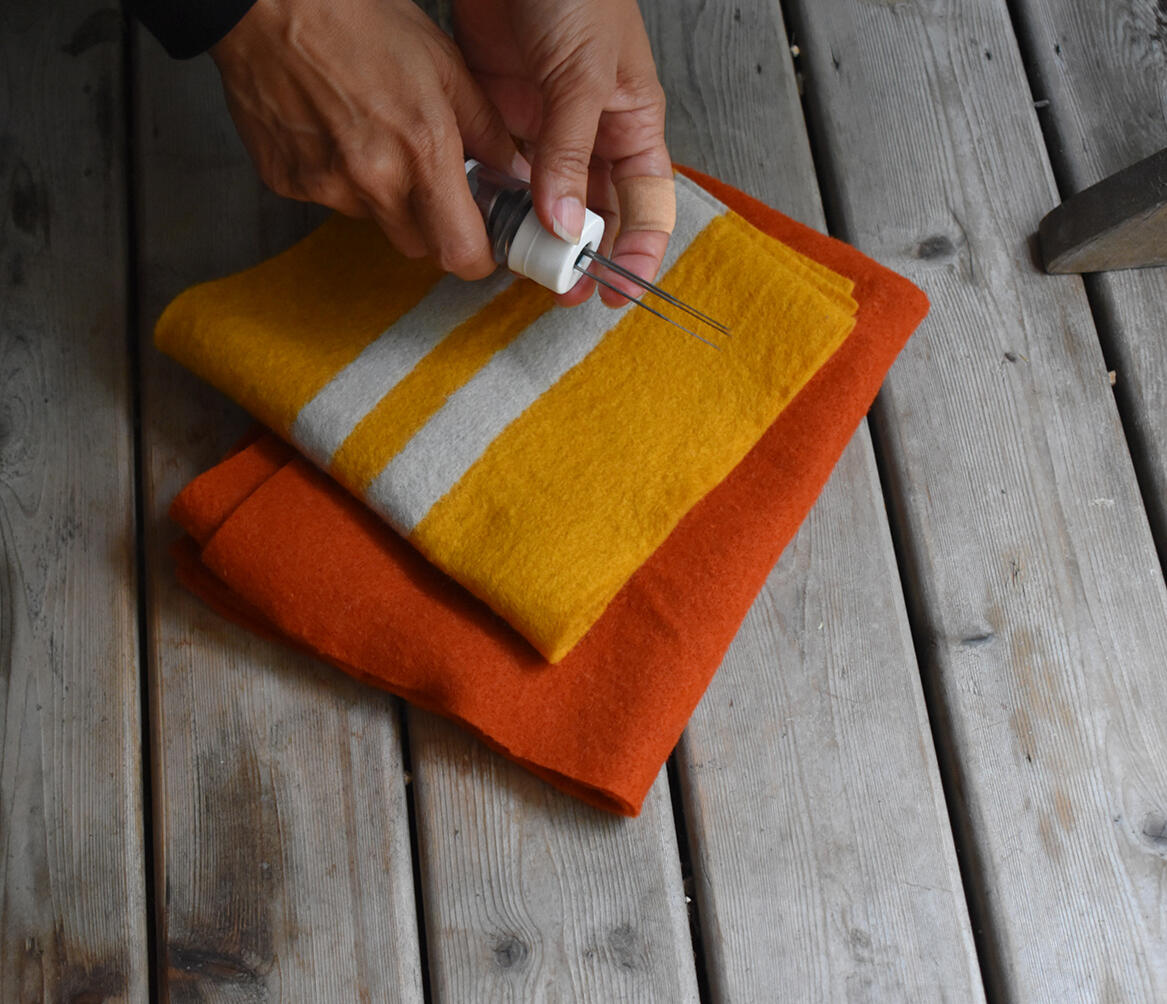 Felting needles and merino scarf samples


Full felted wool bucket tote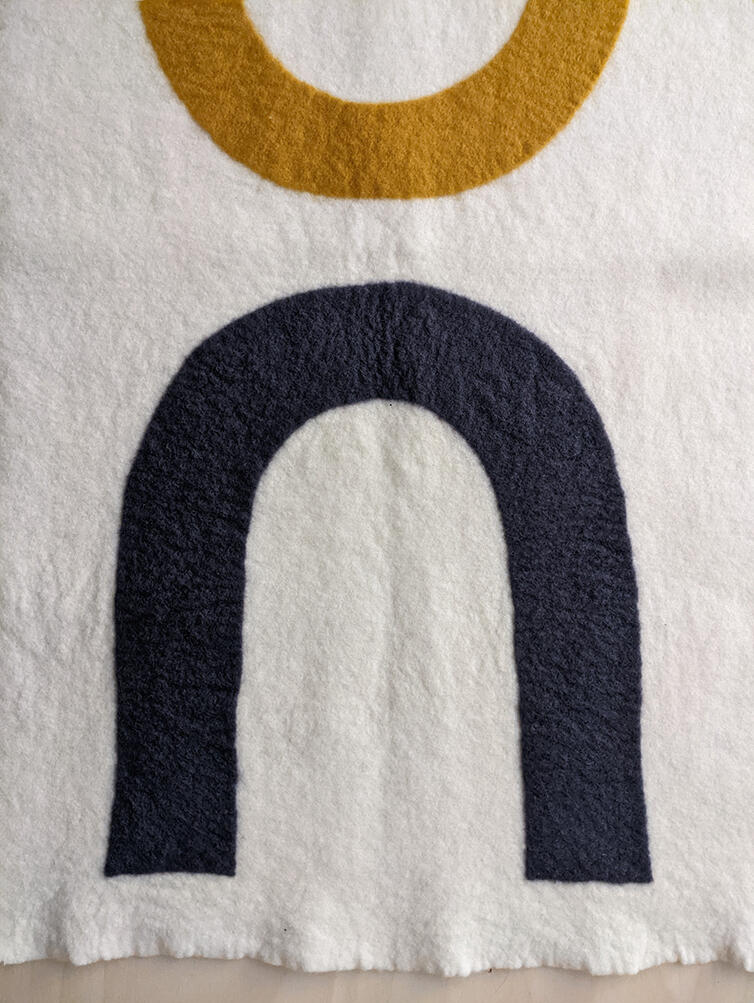 Detail. Felted wool wall hanging (prototype)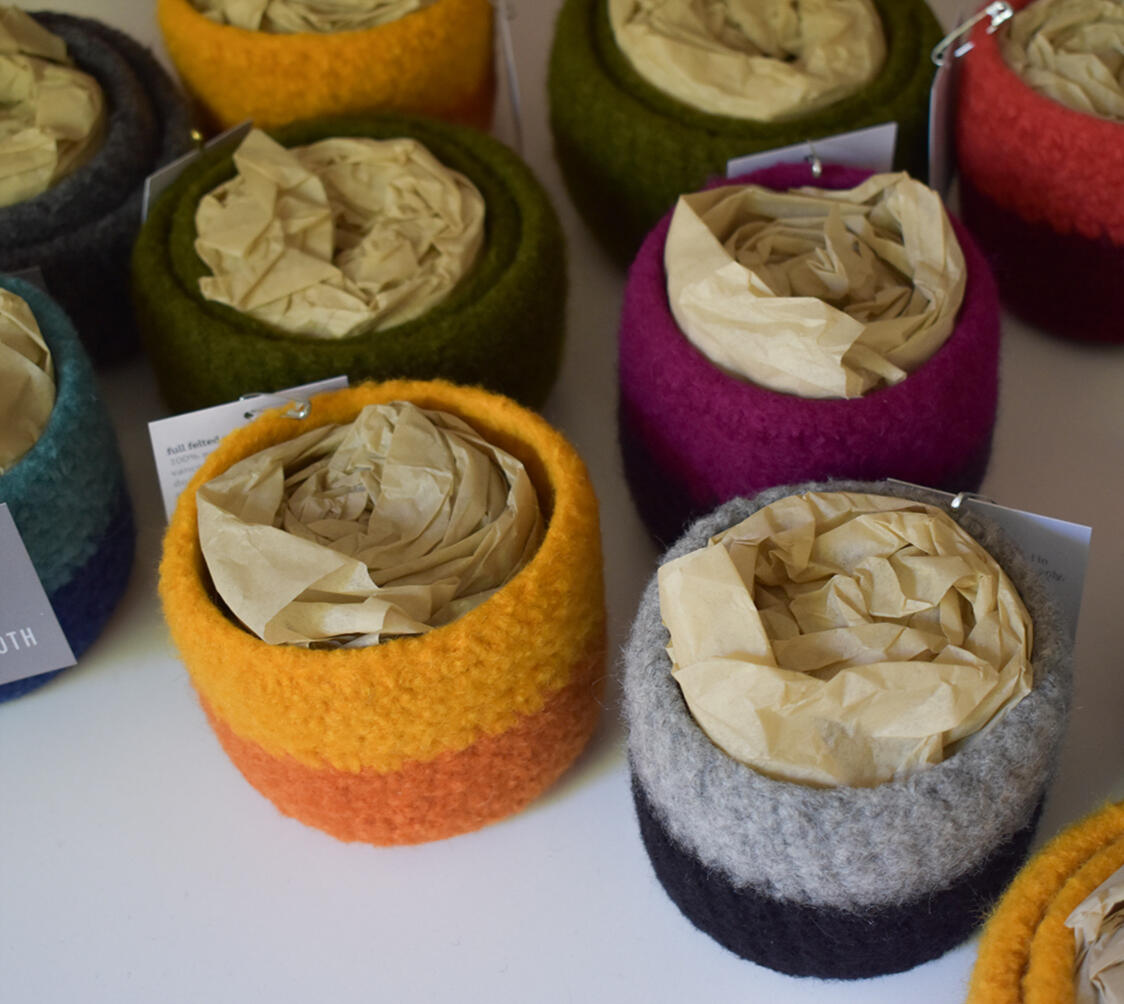 Bowls being packed for a craft show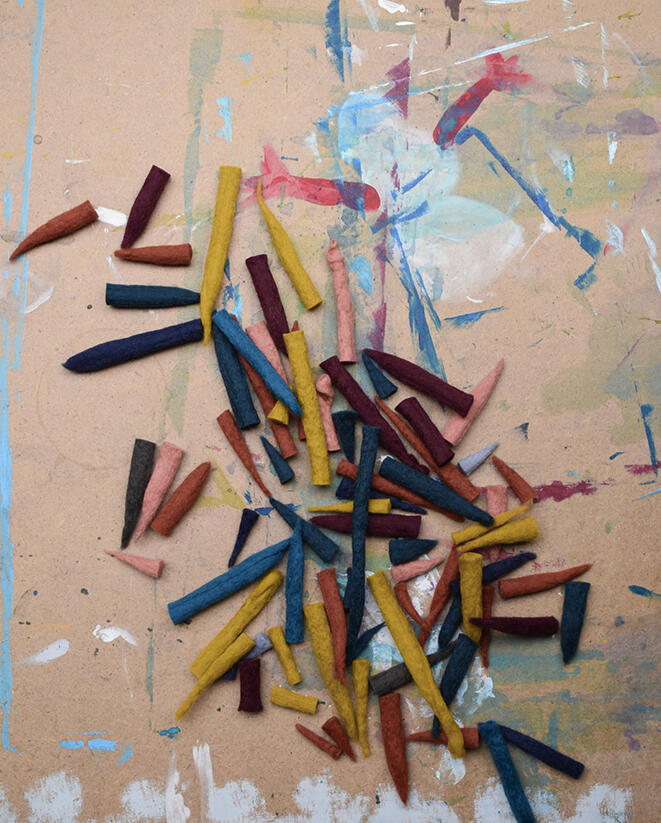 Necklace cord ends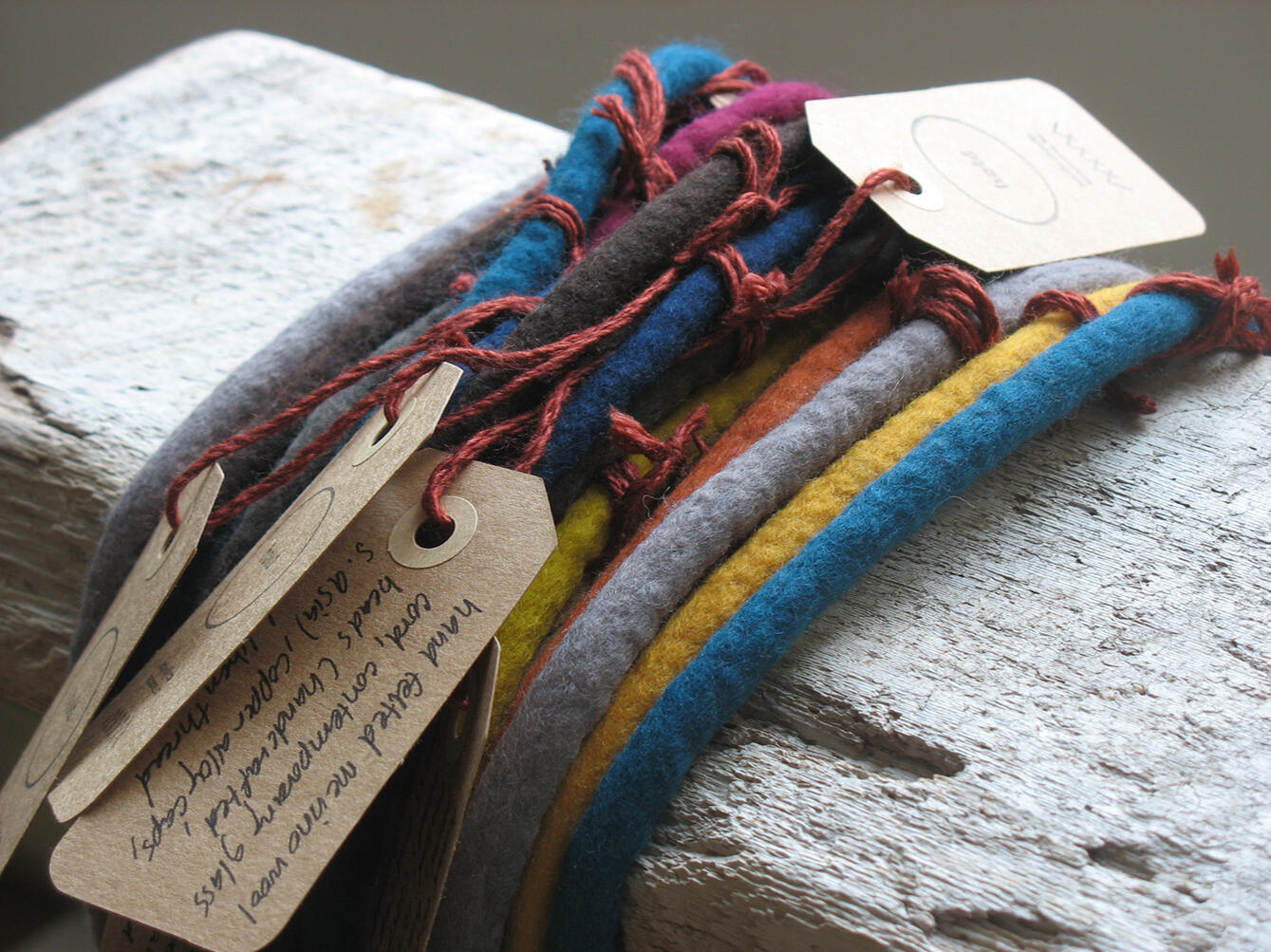 Detail. Necklaces cords and hand written tags


BOWL FAQ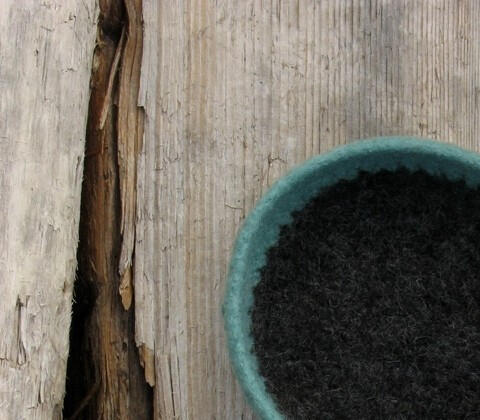 How are the bowls made?
Each bowl takes several days to complete from beginning to end.The bowl shape is first created through crochet, a technique that cannot be replicated by machine. It is then wet felted, causing the wool fibres to shrink considerably and interlock. The felted fabric is then blocked until fully dry, and trimmed.Because the process is time intensive and cannot be replicated commercially, only limited numbers of these beautiful bowls are produced each year in my Vancouver studio.Will they hold their shape?
Yes!Each bowl is unique, organic in form, and soft. Each is an object of natural and imperfect beauty that will bend and flex as it is used in everyday life.The bowls are sturdy, and have been tested in both retail and domestic settings -- hard use, storage, travel, kids -- and performed wonderfully. They look better with use!While the bowls are not, nor will they remain, perfectly round, they should not be stored flat or folded, as they may become distorted.If this does happen, they are easy to revive: soak in warm water, gently squeeze out excess water, place over a container of suitable size and shape (plastic food and plant containers work great), make sure the bowl is evenly placed (especially the rim), let fully dry, remove and enjoy.I committed to making sure you get many years of enjoyment and use from your purchase. Please contact hold by email if you have any questions about your bowl: mariarothdesign (at) gmail.com.What can you use them for?
While the bowls are beautiful objects in their right, they are also fully functional.A useful place to organize everyday things: glasses, bike lights, cell phones, keys, jewelry, digital camera, change. A special place to display more precious objects: beach finds, antique hardware, a small family heirloom.The soft, thick bowls also protect whatever they are sitting on, making them an ideal storage container on wood, ceramic and stone surfaces.Finally, a felted bowl makes a special gift: unique, useful, beautiful and sustainable.
NECKLACE FAQ
Objects of beauty and contemplation, each necklace is made by hand in Vancouver Canada. Worn with the soft, organic merino cord on your neck, they can be hung symmetrically or asymmetrically.What are the necklaces made from?
All materials have been carefully sourced for sustainability and integrity.The organic merino is mulesing-free, and obtained from a European mill that is GOTS 5.0 and GRS certified.I search for beads year round, and purchase them from established collectors and dealers in Canada, the USA, the UK and Japan.How do I care for my necklace?
Store flat in a dry location out of sunlight. Spor clean wool cord.If your necklace becomes wet, please lay flat in a well ventilated location (on a wire rack is ideal!) until fully dry.Your necklace is made of a natural material that is durable, but will show wear more quickly if work more frequently or against rough fabrics. If your cord pills, you may carefully trim it with a safety or razor cartridge.Where does the design come from?
I came up with this design in 2009, and brought a few necklaces for sale to a local craft show. They sold out before noon, and I have enjoyed making necklaces and scouting for new beads since then.A long life
Your necklace was carefully made from high quality, carefully sourced materials, using a unique design and process. I have necklaces that are many years old, and I hope that you get many years of enjoyment from yours!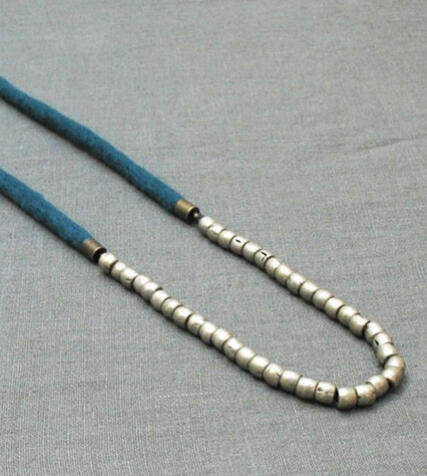 At some point should your necklace require attention (re-stringing or perhaps a new cord), please get in touch, I would be delighted to help you. I can be reached through the contact form on this site.Thank you for supporting an independent business!
ABOUT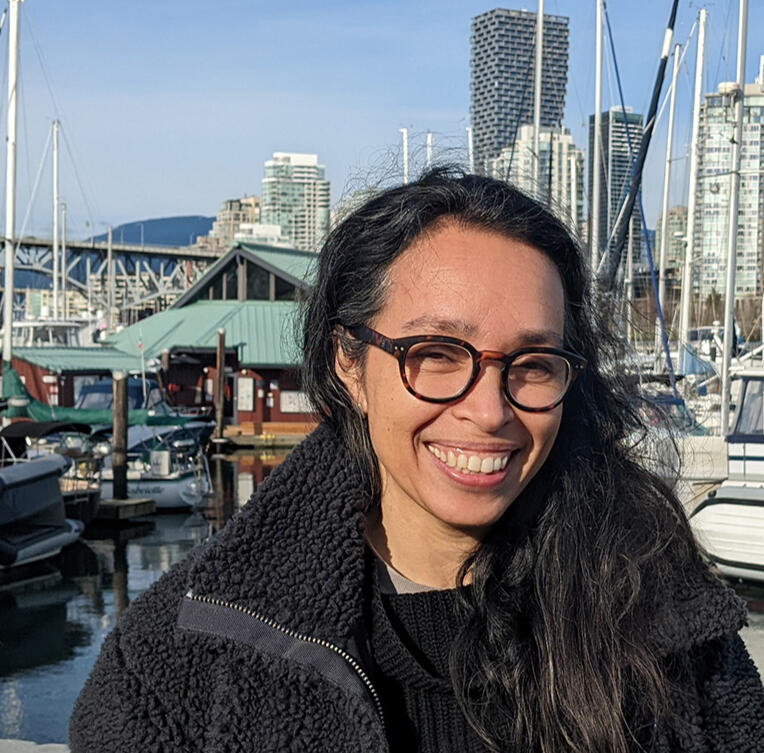 Maria Roth is a Vancouver-based textile artist who makes felted wool objects of uncommon beauty. The work is intended to delight and to be used for many years, embodying a love of exuberant colours intertwined with the sombre greys of rainy West Coast winters.Her background includes graduate and professional work in visual art, material culture, museum ethnography, and graphic design.Her studio focuses on one of a kind and small run production. It is committed to sustainable practice through careful material sourcing, use of biodegradable and recycled/vintage/antique materials, and low impact production methods.Please note: I have recently received a Canada Council research + creation grant, and will be on leave until Sept 2023 in order to focus on my project. New work will be available for purchase after I return. Please contact me through this website if you would like to be added to my studio announcement list.MEMBERSHIPS
Member, Circle Craft Cooperative
Member, Craft Council of BCPAST SHOWS
Circle Craft Christmas Market
Textile Society of America Symposium (as part of the Craft Council of BC)
First Pick Handmade
Great Gifts - Ferry Building Gallery
Got Craft
IDS WestPRESS / MENTIONS
Sheryl MacKay, CBC's North by Northwest, November 2021Creators Vancouver "People: Maria Roth", Sept 2019"First Pick Profiles Maria Roth", Sept 2019Vancouver Sun "Craft fairs' personal touch gives 'much more meaning' to holiday gifts", November 2016Where: Vancouver "Gift Rapt: Circle Craft", November 2016The Georgia Straight "7 home and decor vendors to shop at the Circle Craft Christmas Market", November 2016Huffington Post "B.C. Gift Guide Is The Ultimate Shop Local Holiday List", December 2013Globe and Mail "Coveted / Tiny Primary Bowls" by design writer Matthew Hague, 19 September 2013Canada Arts Connect "Hold Handmade's Modern Feltworks", November 2012Poppytalk "Sharing the Process: Felted Wool Bowls by Hold", October 2011Breakfast TV "Unique Gift Ideas by Susie Wall", December 2011Designer Kelly Deck's Globe and Mail article "Crafted Gifts that Deepen Daily Pleasures", December 2011WALRUS home "Meet Miss Maria Roth", December 2011
LOCAL STOCKISTS
WALRUS DESIGN
3408 Cambie (at 18th)
https://shop.walrushome.com/CIRCLE CRAFT GALLERY
Granville Island
https://circlecraft.net/


CONTACT